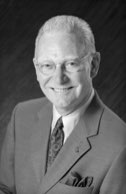 Edward J. Downing spent his 46-year career in music education teaching in the Flint,
Belleville, and Ann Arbor public schools, followed by a tenure at the University of Michigan. He demonstrated superb musicianship and teaching skills that led him to hold several offices in the Michigan School Band and Orchestra Association including the office of President. His bands were among the very finest in the country, performing for state, regional, and national conventions including the Midwest Clinic.
For the next 25 years he became an administrator at the Interlochen Center for the Arts, where he was part of the leadership team serving as Director of the National Music Camp, Vice President for Education, and for the last five years of his tenure as President. He retired in October 2003 as only the sixth president in Interlochen's then 76-year history. He is today President Emeritus.
Mr. Downing is a graduate of the University of Michigan and was presented the Distinguished Graduate Citation of Merit by the School of Music and the Distinguished Service Citation by the University of Michigan Bands. He served his country through an eight-year commitment to the US Army, and retired as Captain, US Field Artillery.
For the past 38 years, Ed and his wife, Joyce, have made their home in Traverse City. A member of the Rotary Club of Traverse City since 1981, he has served as club president and president of Rotary Charities. The club is distinguished for its philanthropy, for through oil and gas reserves discovered on Rotary property, the club has awarded more than $50 million to the six-county area.
Mr. Downing is a member of the First Congregational Church of Traverse City. The Downing's have three children and six grandchildren.