The American Bandmasters Association, founded in 1929, with John Philip Sousa as Honorary Life President, recognizes outstanding achievement on the part of Concert Band conductors and composers. The current membership (invitational) comprises approximately 300 band conductors and composers in the USA and Canada, and 80 Associate Members (music businesses and corporations that provide significant services to bands and to the publication of band music.)

---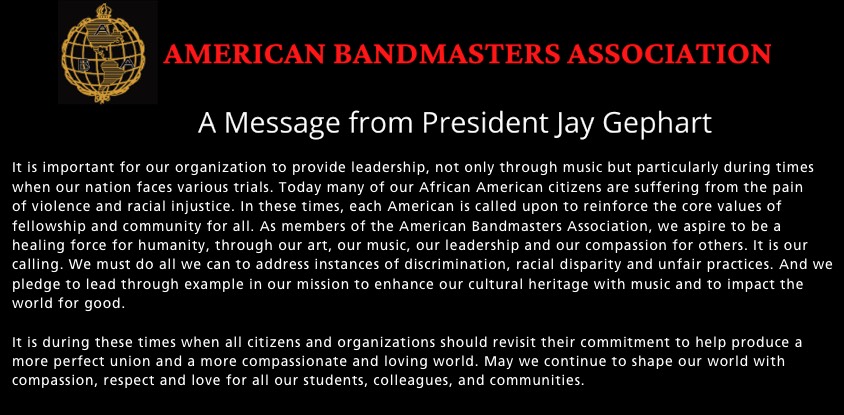 ---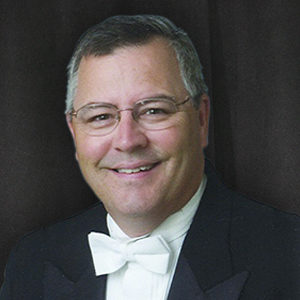 From Jay Gephart, ABA President
Dear ABA Family,
I am deeply honored to serve as the 83rd President of the American Bandmasters Association am grateful to the membership for giving me the opportunity to steward this wonderful organization through the Indianapolis convention in March of 2022.
When the American Bandmasters Association was established in 1929, the founding members were living in rather difficult and tumultuous times as well. Their perseverance through life's challenges and their commitment to excellence set our profession on an upward trajectory that changed our world forever. Musicians around the globe have been and continue to be direct beneficiaries of the vision of Edwin Franko Goldman and the work of the American Bandmasters Association
I wonder if Edwin Franko Goldman had any idea the impact the ABA would have over the next 93 year. That ABA members would be the founders of the American School Band Directors Association, the College Band Directors National Association, the National Band Association, the Phi Beta Mu International Bandmasters Fraternity and the American Bandmasters Association Research Center. The ABA's ongoing commitment to the betterment of the concert band, continued encouragement of new works for our medium and an unwavering dedication to research in the band profession have and continue to provide tremendous leadership in an ever- changing profession and world. To say the importance of the ABA lies in its membership has never been more true.
I believe I speak for everyone when I say we really need to come together as the ABA family once again. I invite you to join us when we meet on March 2-6, 2022 in our beautiful state capital of Indianapolis, for the 87th annual convention of the American Bandmasters Association. Jana and I welcome our co-hosts Tom and Dee Dee Caneva, Michael and Nancy Colburn, Rodney Dorsey and Dorinda Nance, and Dan and Jane Bolin. This year's convention theme is "Start. Your. Engines!"
Excursions will include something for everyone including trips to the newly rejuvenated Bottle Works District, the Indiana State Museum, the Eiteljorg Museum, the NCAA Hall of Champions and or course the Indianapolis Motor Speedway. Other options include a tour of local breweries in downtown Indy and a trip to beautiful Carmel, Indiana for lunch and shopping.
Performing groups include the Butler University Wind Ensemble, the Ball State University Wind Ensemble, the University of Illinois Wind Symphony and the Indiana University Wind Ensemble. Friday night's performance will feature "The President's Own," United States Marine Band followed by a post- concert reception honoring the late Honorary Life President of ABA, Dr. Al G. Wright.
Please mark your calendar and plan to be in Indianapolis for what I truly believe will be an incredible convention. In the meantime, please accept my sincere best wishes for a safe, healthy and happy year. I'll look forward to seeing everyone in Indianapolis.
Sincerely,
Jay
Email: jsgephart@purdue.edu