Pictures from the 2023 ABA Convention, March 1-5, Lawrence, Kansas
The American Bandmasters Association, founded in 1929, with John Philip Sousa as Honorary Life President, recognizes outstanding achievement on the part of Concert Band conductors and composers. The current membership (invitational) comprises approximately 300 band conductors and composers in the USA and Canada, and 80 Associate Members (music businesses and corporations that provide significant services to bands and to the publication of band music.)

---
SPECIAL ANNOUNCEMENT! Congratulations to Zhou Tian, winner of the 2022 Sousa-ABA-Ostwald Composition Contest Award for his composition Sinfonia. Tian serves as Associate Professor of Composition at Michigan State University. Read more here.
---
2023-2024 ABA President's Message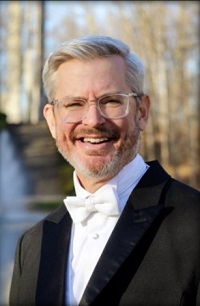 As I embark upon my tenure as the 85th President of the American Bandmasters Association, I want to extend my thanks to our membership for the opportunity to lead this unique and storied organization. I suspect I am not alone in never imagining myself in this position, but now that I am here, rest assured that I am fully invested in doing what I can on behalf of this amazing collection of people who do so much on behalf of bands!
As North America's most storied band organization, the ABA boasts an unrivalled history of legendary leaders, going back to our first president, Edwin Franko Goldman, and our first honorary life president, John Philip Sousa. The ABA imprimatur can be found on so many important works in our repertoire, whether through commission, award, or premiere performance. And it seems virtually impossible to conduct any kind of research on the history of bands in America and Canada in the 20th century without finding some degree of connection with the ABA and its membership. But as with any venerated institution, it is vital that in addition to being guardians of tradition, the ABA must embrace the opportunity to evolve and keep pace with developments in the band world and changes in our culture. I think we need to make every effort to ensure that our membership is an accurate reflection of our band and national communities, and I call upon our membership to seek out, encourage, and mentor young band directors to help grow the next generation of members. Knowing the unrivalled talent, leadership, and dedication of our membership, I am confident that we can increase the impact and effectiveness of this unique organization through these efforts.
I am so pleased to see the excitement about our 2024 convention in Washington, D.C. With its focus on our military bands, echoes of our historic 1932 convention which featured our first DAR Constitution Hall performance, a visit to the Music Collection at the Library of Congress, and excursions to some of the finest museums in the nation, it promises to be an unforgettable experience. But along with the emphasis on history, rest assured that we will also be fully focused on our future, as the convention will also feature our first IDEA Commission from Kevin Day, a joint military band commission, and a number of exciting new works for band. I hope you've already marked March 6-10, 2024, in your calendar, and that we'll see you in DC!
In closing, I would like to thank Kerry Taylor for his outstanding leadership as president over this past year, as well as the rest of the ABA Executive Board, with whom it is has been such a pleasure to collaborate: Jay Gephart, Linda Moorhouse, Bobby Francis, and Tom Fraschillo. I would also like to thank our wonderful Lawrence convention hosts, Paul and Julie Popiel, and Bob and Becky Foster. As Lawrence reminded us, our conventions provide a unique opportunity to renew friendships, welcome new members, enjoy spectacular concerts, and remind ourselves just how fortunate we are to belong to an organization in which collegial support and friendship is so vital.
Michael J. Colburn, President The American Bandmasters Association
---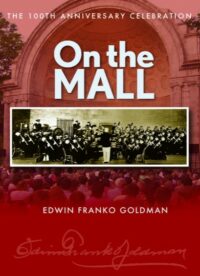 On June 25, 1923, Edwin Franko Goldman's most celebrated march On the Mall received its premiere performance in New York City's Central Park, site of hundreds of performances by the storied Goldman Band. Although he was the composer of the march, Goldman initially didn't think much of it, and delayed performing the work until he was pressured by his publisher to do so. Much to Goldman's surprise, the march was received with so much enthusiasm that he was required to repeat it not once, but twice in its debut. From that point forward, the march was heard on nearly every Goldman Band performance, usually as an encore raucously demanded by the audience. The march also became a staple for professional, student, and community bands around the country, and is undoubtedly the work for which Goldman is best remembered.

Click here to read the rest of the story.