The American Bandmasters Association, founded in 1929, with John Philip Sousa as Honorary Life President, recognizes outstanding achievement on the part of Concert Band conductors and composers. The current membership (invitational) comprises approximately 300 band conductors and composers in the USA and Canada, and 80 Associate Members (music businesses and corporations that provide significant services to bands and to the publication of band music.)
A Message from Lowell E. Graham, ABA President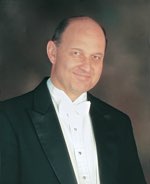 On behalf of the entire membership of the American Bandmasters Association (ABA), I would like to welcome you to our website and invite you to explore our association. In my opinion, this is an organization of All-Stars, an organization which is unique in that membership is by invitation, based on achievement and solid citizenship in our profession. Each member has established themselves as a longtime leader in their state and on our national stage. Their expertise sets the standard for impeccable performance. These performances cultivate the rich history of band music while looking forward to future trends and performance practice, preserving the history of our bands and providing continuity and stability for the future. You will see that ABA is a dynamic, enthusiastic and robust organization with a deep reach into the fabric of American music, providing a wealth of opportunities for our profession including composition competitions, educational mentoring, educational project support, a task force for school bands, band research, outreach, position papers, reprinting of standard works that are out of print, and recognition for outstanding contributors.
I believe that this is the most honored association of its kind in the world. Our rich heritage reaches back to our founders – visionaries who established this organization with traditions and a passion for excellence. We certainly stand on the shoulders of those charter luminaries. They were Edwin Franko Goldman, leader of the Goldman Band; Charles Benter, Director of the United States Navy Band; J. J. Gagnier, Director of His Majesty's Grenadier Guards Band of Montreal; Victor J. Grabel, conductor of the Chicago Concert Band; Albert Austin Harding, Director of Bands at the University of Illinois; Richard B. Hayward, Director of the Toronto Concert Band; Charles O'Neill, Director of the Royal 22nd Regiment Band of Quebec; Arthur Pryor, Director of Arthur Pryor's Band and Frank Simon, Director of the ARMCO Band in Middletown, Ohio.
The following quote is from a letter authored by Capt. William Stannard, leader of the United States Army Band, to Albert Austin Harding, articulating his vision of ABA. "We conceived the idea of creating an ABA for the purpose of furthering the interests of outstanding American Band Masters, and of interesting composers, arrangers, and music publishers in Wind Band music." It is as relevant today as it was in 1928.
Kind regards
Lowell E. Graham: President, ABA