The American Bandmasters Association, founded in 1929, with John Philip Sousa as Honorary Life President, recognizes outstanding achievement on the part of Concert Band conductors and composers. The current membership (invitational) comprises approximately 300 band conductors and composers in the USA and Canada, and 80 Associate Members (music businesses and corporations that provide significant services to bands and to the publication of band music.)

---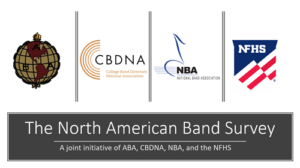 The North American Band Survey was launched on September 9, 2020 as a joint initiative between the American Bandmasters Association (ABA), the College Band Directors National Association (CBDNA), the National Band Association (NBA), and the National Federation of State High School Associations (NFHS). The purpose of the survey was to collect information about curricular and programming models that are being used in band programs in the 2020-2021 school year with the goal of creating a large repository of curricular and programming ideas to share with any and all interested directors. The survey was sent to the members of each of the professional organizations as well as posted in public forums. The survey remained open until October 9 and was completed by 2,272 persons.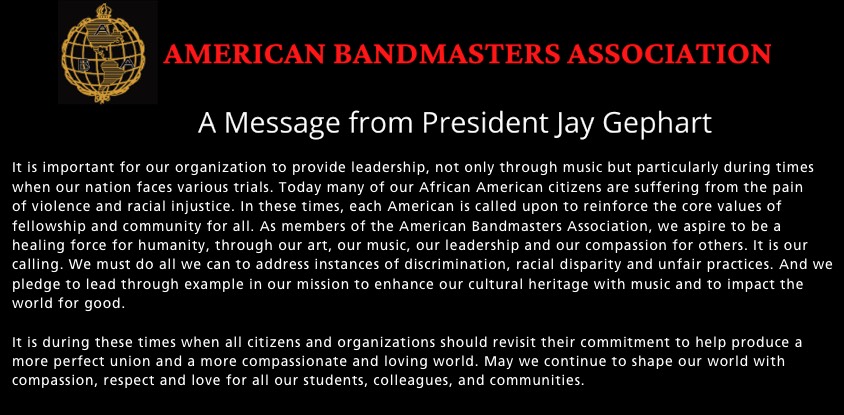 ---


Jay Gephart, ABA President
Dear ABA Family,
As we all maneuver these waters of what has become the COVID-19 world, band directors across the country are facing a very uncertain future. They are clamoring for guidance and answers and are looking to organizations like the American Bandmasters Association for advice and direction.
This is not the first time our profession has faced adversity.  The American Bandmasters Association was formed by Edwin Franko Goldman and others in 1929 at the beginning of another troubling time in our nation's history. It was because of these forward thinking leaders in our profession, that bands across the country survived the great depression and the many calamities of the 20th century to become what we experience today.  Our profession is comprised of individuals who work hard, are determined, resilient and who face adversity head on. Because of this, we WILL come out of the COVID-19 pandemic stronger and more resilient than ever.
In an effort to support our profession during these difficult times, I have created the American Bandmasters Association Covid-19 Response Team made up of ABA members from across the country. The Response Team is chaired by Past-President Tim Rhea with members including Cody Birdwell,  Michael Brashear, Chris Chapman, Randall Coleman, Brian Covey, Richard Crain, Darrin Davis, Amanda Drinkwater, Richard Floyd, Robert Floyd, Mark Heidel, Roy Holder, Alex Kaminsky, Brad Kent, Barry Kopetz, Diane Koutsulis, Steven Moore, Beth Peterson, Rebecca Phillips, Paul Popiel, Scott Rush, Robert W. Smith, David Vandewalker, Alfred Watkins, and Todd Zimbleman.
To provide a conduit through which Response Team members can share information, I have worked with my colleague Matt Conaway at Purdue University to create the ABA COVID-19 Discussion Forum. https://band-chat-2020.freeforums.net/  This online Forum, open to ABA members and non-members, will allow Response Team members to engage in conversations with band directors and administrators, share challenges and ideas, learn from each other and provide support.  A repository of information will also be available on this Forum in the form of Google Drive page where directors can find materials related to COVID-19 and the performing arts.  One of the documents to be shared in this forum is entitled ABA COVID-19 STUDENT SAFETY AND MUSIC PROGRAM CONTINUATION IDEAS FOR CONSIDERATION, a document created by Roy Holder's School Bands Committee of the American Bandmasters Association.  This powerful document strongly supports the future of the large ensemble while giving specific guidance for band directors at all levels.  You can access this document by going to Forum.
Now our profession needs your help more than ever.  SHARE this COVID-19 Discussion Forum LINK on social media, with your "friends" list, with your former students-with anyone you can. Forum information will also be shared through many state and professional organizations, and has already been placed on the ABA Facebook page.  The Forum is open to all and can be accessed beginning tomorrow morning, Friday, May 22nd at 8:00am. The link to the forum once again is https://band-chat-2020.freeforums.net/.
I would like to extend another thank you to our ABA COVID-19 Response Team. They will serve as a "brain trust" for middle school, high school, college and community band directors who may be forced to temporarily reset their baseline and move to a non-traditional environment.  Our hope is directors will be equipped with information so they can work side by side with their school administrators to plan the re-entry and reopening of schools this fall.
If you have any questions please don't hesitate to email me at jsgephart@purdue.edu.  In the meantime, thank you for sharing the COVID-19 Discussion Forum with anyone and everyone you can.
Sincerely,
Jay