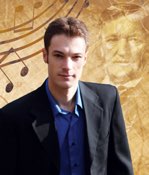 The winner of the 2016 Sousa/ABA/Ostwald Contest is Paul Dooley (b. 1983) for Masks and Machines.
The work was performed on March 10, 2017, by the United States Marine Band, The President's Own, and conducted by Lt. Col. Jason Fetig, Conductor of the Marine Band, at the 83rd annual convention held at the University of Kentucky in Lexington, KY. A portion of the work may be heard on Paul Dooley's website: https://www.pauldooley.net/works/masksandmachinesband
For general information on the Sousa/ABA/Ostwald Contest, click here.