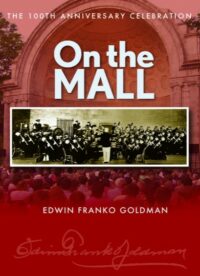 On June 25, 1923, Edwin Franko Goldman's most celebrated march On the Mall received its premiere performance in New York City's Central Park, site of hundreds of performances by the storied Goldman Band. Although he was the composer of the march, Goldman initially didn't think much of it, and delayed performing the work until he was pressured by his publisher to do so. Much to Goldman's surprise, the march was received with so much enthusiasm that he was required to repeat it not once, but twice in its debut. From that point forward, the march was heard on nearly every Goldman Band performance, usually as an encore raucously demanded by the audience. The march also became a staple for professional, student, and community bands around the country, and is undoubtedly the work for which Goldman is best remembered.
In addition to being a composer and bandmaster, Edwin Franko Goldman was one of the most important leaders in the American band movement of the early 20th Century. Chief among his accomplishments was his role in the founding of the American Bandmasters Association in 1929. To honor the debt of gratitude we owe this visionary leader, we are encouraging bands across the country to consider programming the On the Mall March during its 100th anniversary year. Performances on or around the exact anniversary date of June 25th would be ideal, but any effort to program this march, along with the mention of the anniversary and the important role that Goldman played in the American band movement, would be a wonderful way to mark this historic milestone.
The American Bandmasters Association is grateful to Edwin Franko Goldman scholar Robert S. Cutler for his efforts on behalf of our founding father, and in particular for his promotion of the anniversary of On the Mall. If you program the march during this anniversary year, please consider letting Mr. Cutler know by contacting him at
bobcutler65@hotmail.com
.